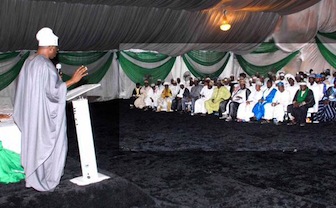 President Goodluck Jonathan on Saturday said that he was quoted out of context in the statement he made on running only a single term.
The president said this when he had an interactive session with Islamic Clerics from South West region at the State House, Marina, Lagos.
"I need to clarifiy this otherwise I do not need to talk about it. This matter continues to come up."
He said those who have been playing the tape where it was shown that he had pledged to run only a single term had not been sincere.
The President said that what happened was that late President Umaru Yar'Adua came out with political reforms when he, Jonathan was the Vice president.
Jonathan said that he was the chairman of the interparty group of the committee set up by late Yar'adua to agree on the president's proposal for a single tenure.
He said the statement he made in Addis Ababa was within the context of the proposal.
"I made that statement in Addis Ababa, when I addressed Nigerians. I made that statement after I had won elections."
He said that he told the audience in Addis that that recommendation would move the country forward.
"I was advising Nigerians in Addis Ababa and I made mention of this issue of seven years of single tenure as being the best for the country."
"I now added that if Nigerians will agree to run a single tenure of seven years I will not contest. That was the statement I made."
He said that he still believed in that recommendation in order to prevent the waste of resources during re-election bids of incumbents.
Jonathan said the section of the broadcast which featured former president Obasanjo took place in 2011 during the PDP presidential primary.
He said that he did not want to join issues with Obasanjo because the party members were there for primaries and "I just wanted to win my primaries".
He reaffirmed his earlier stand that if Nigerians accept his proposal of a single term of seven years, he would not re-contest.
"Those who are advertising on television that I said I was not going to contest a second tenure should play the whole tape."
Jonathan said people were diminishing the office of the president because of politics.
He further said that even with the past campaign for the 2015 polls almost concluded, if Nigerians would accept that single tenure of seven years, he would not bother to contest the election.
He thanked the clerics for giving him the opportunity to clarify the statement and urged them to continue to pray for the unity and prosperity of the country,
Earlier the Chief Imam of Oriwu Central Mosque, Ikorodu,Llagos, Sheikh Oshoala Ajagbemokeferi, had urged the president to carry every Nigerian along in his administration.
The Imam pledged support for the programmes of the administration and urged the government to conduct a free, fair election to win the favour of God.

Load more