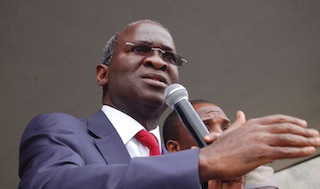 The Lagos State Government has approved the payment of N4million as annual maintenance grant to every public school in the state, a statement said on Wednesday.
The statement was issued by the Lagos State Ministry of Education on the commissioning of a block of 18 classrooms at Ayedere Ajibola Senior Secondary School, Ketu.
It was signed by Mr Jide Lawal, the Public Relations Officer of the ministry.
The statement said that graduates of vocational schools would be given the opportunity to put their skills to use by employing them to maintain the schools.
According to the statement, any government that aims to discharge its responsibility must be committed to the welfare of the children.
It said the school in Ketu was one of the 24 schools that had been completed and was ready for commissioning within the last few months.
"This underscores the commitment of the state government to put in place not just infrastructure but a totality of other requirements to help teach the students survival skills, by training them so that they can become self- employed and employers of labour," it said.
It commended teachers in the state for their selfless efforts in moulding of the lives of the students, adding that the government would continue to prioritise the welfare of teachers.
According to the statement, the government is committed to the training and empowerment of the youth by providing an enabling environment for them to attain their full potential in life.
It urged the students to stay focused, obey their parents and teachers, and not to take things from the strangers.
The statement also urged the pupils to be good ambassadors of their parents, family, the state and Nigeria.
It urged parents to pay attention to their children and not to delegate their duties to others.
According to the statement, parenting is not only a tough job, but a lifelong responsibility that must be taken seriously.

Load more