Henry Ojelu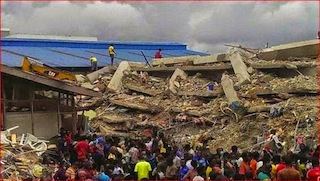 A geo-technical engineer, Mr Joseph Folayan today faulted the report of the Lagos State Material Testing Agency, which claimed that the collapsed guest house within the Synagogue Church of All Nations (SCOAN) was caused by defects on its foundation.
Folayan made this known while testifying before the Lagos State Coroner's Court sitting in Ikeja, presided over by Chief Magistrate Oyetade Komolafe.
The inquest was set up by the Lagos State Government to investigate the Sept.12, 2014 building collapse which killed 116 people.
The agency had claimed in its Structural Integrity Test on the six-storey building that it collapsed as a result of a defective foundation.
However, Folayan, who was led in evidence by SCOAN's counsel, Mr Olalekan Ojo, maintained that the soil under the foundation of the collapsed building did not fail.
He described the report as assumptions based on his 45 years experience as a geo-technical engineer.
"As a practising geo-technical engineer with over 45 years experience, it is my view that the soil under those foundation did not fail.
"The pad used in the construction did not constitute a failure," the witness said.
According to the witness, COREN is the only body that is legally bound to regulate the activities of any engineering practitioner in Nigeria.
He said:"Engineers in the country should sit up so as to forestall any further occurrence of building collapse.
"There is need to sanitise the engineering profession because it has been infiltrated."
Meanwhile, the court admitted as exhibits, some documents tendered by the Lagos State Commissioner for Physical Planning and Urban Development, Mr Olutoye Ayinde.
The documents included the approval plan for the main auditorium of the church as well as a general survey of the entire complex.
Ojo, however, objected to their admission arguing that they were not of the collapsed building thus irrelevant to the inquest.
According to him, SCOAN's position has always been that it was processing permit for the building when the unfortunate incident occurred.
However,the coroner, Mr Oyetade Komolafe, held that the documents should be admitted as Exhibits 035 to 040.
The matter was adjourned till April 8 for further hearing.

Load more