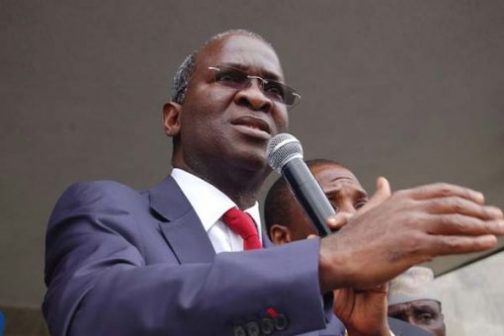 The Minister of Works, Housing and Power, Mr Babatunde Fashola, and the National Leader of the All Progressives Congress (APC), Chief Bola Tinibu, have inaugurated projects worth billions of naira in Zamfara State.
Tinubu and Fashola were among the dignitaries invited by Governor Abdulaziz Yari to inaugurate the projects as part of activities to mark the 2016 Democracy Day.
The projects are township roads, rural electrification, power substation and hospitals.
Fashola said while inaugurating the sub-stations in Anka that the projects were in line with the Federal Government's policy of ensuring that all the towns and villages were connected to the national grid.
He said the Federal Government was ready to partner with the states to improve the quality of lives of Nigerians, especially those in the rural areas.
He said the current administration had planned various infrastructural development projects to be executed across the country to deliver the dividend of democracy to the masses.
"Despite economic challenges, with little resources, the administration has recorded various achievements better than previous government that sold 130 dollars per barrel of crude oil," he said.
The minister expressed the confidence that the projects would improve the lives of the rural dwellers.
Tinubu, who inaugurated general hospitals and township road projects also in Anka, Bukkuyum and Gummi Local Government Areas, said the projects were in line with the party's programmes.
Tinubu, who was represented by a former Deputy Governor of Lagos state, Mr Olufemi Pedro, said:"Roads attract development because they help to improve the socio-economic development of the rural communities.
"Therefore, we have strong hope that these projects will change the lives of the rural dwellers in the state."
In his remarks, Yari said the projects were jointly executed by the state government and the 14 local government councils of the state.
He said that the township road projects of 20km in each of the headquarters of the 14 local governments were executed at a cost of N42 billion.
Yari added that the rural electrification projects that connected 87 towns and villages cost N8.5 billion.