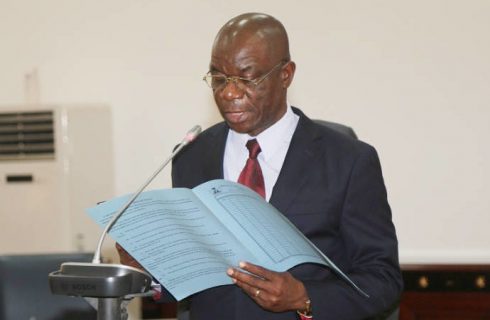 The Chief Judge of Delta, Justice Marshal Umukoro, has urged state governors to sign death warrant of inmates on death sentence in order to decongest the prisons.
Umukoro spoke on Wednesday in Ibadan during the 2017 Aquinas' Day colloquium of Dominican Institute.
The title of the lecture is "The Judiciary and Criminal Justice System: Odds and Ends."
Umukoro said that recent statistics from the National Human Rights Commission (NHRC) indicated that no fewer than 1,612 inmates are on death sentence in Nigeria prisons.
The chief judge said that signing the death warrant would reduce prison congestion, and served as deterrent to others.
He, however, called for synergy between the police, prisons and the courts in order to boost justice administration.
"Some criminal cases have been hanging without progress for over a year in some courts due to the transfer of Investigative Police Officer (IPO) or as a result of IPO going on a short course.
"Some courts too do not cooperate with the police and the prison to expeditiously dispose of criminal cases.
"This does not only lead to unnecessary waste of time but also greatly affects the disposition of the accused person and the witnesses who look forward to seeing the end of the case,'' the chief judge said.
Umukoro said that more fora should be organised from time to time with the aim of sensitising various relevant stakeholders in the criminal justice sector on the need for mutual co-operation.

Load more