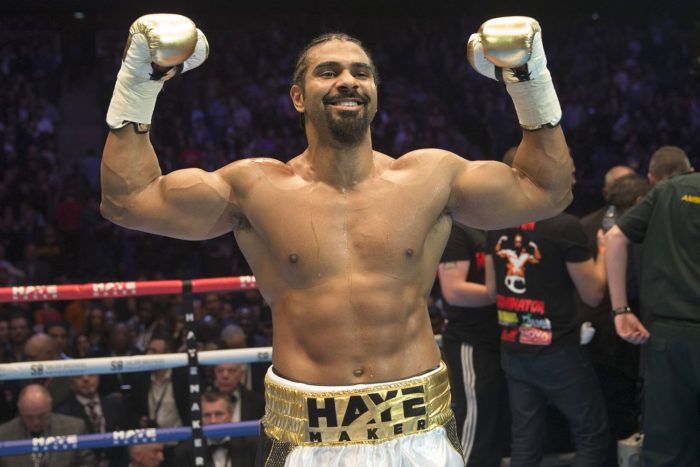 David Haye has told Tony Bellew that he will do much damage to him in their heavy weight boxing fight on Saturday.
Haye to Bellew to "enjoy your last couple of days" ahead of the pair facing off in their heavyweight clash at London's O2 Arena on Saturday.
The 36-year-old also warned that his aim is "to do as much damage to [Bellew] as I can" when he takes on the WBC cruiserweight champion.
Bleacher Sports reports that the buildup to the all-British clash has been littered with the pair exchanging insults, but Friday's press conference was a more sedate affair.
Haye responded to claims from Bellew that the former WBA heavyweight champion is no longer the fighter he once was, and he sent a warning to the 34-year-old Liverpudlian, per the Telegraph's Dan Zeqiri:
"He said he wouldn't beat the old David Haye, but unfortunately the new David Haye is better than the old one.
"Knocking him down for 10 seconds doesn't excite me. I'm legally allowed to do as much damage to him as I can in 36 minutes with 10 ounce gloves.
"I hope he does keep getting up, like he says he will because he's got a big heart. Enjoy your last couple of days. Make sure your boy doesn't throw in the towel."
Bellew (28-2-1) is stepping up to the heavyweight division for the first time to take on Haye (28-2).
He is a significant underdog heading into Saturday's clash with the London-born Haye, who has enjoyed a lot of success at heavyweight.
There have been rumours circulating that the Hayemaker may have picked up an Achilles problem, per The Sun's Pat Sheehan and Toby Gannon.
However, boxing writer Tom Craze believes Haye would topple Bellew even with an injury problem.

Load more