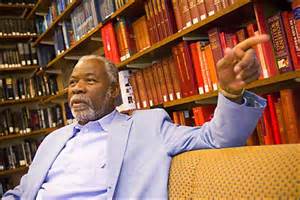 Nigerian academic and literary critic, Professor Francis Abiola Irele, is dead. He was 81
Irele, once described as the doyen of Africanist literary scholars worldwide, died in the United States on Sunday.
He was born in Ora (present Edo State, Nigeria) in 1936 and once served as the Provost of Kwara State University in Ilorin, Nigeria.
Before moving back to Nigeria, Irele was a Visiting Professor of African and African American Studies and of Romance Languages and Literatures at Harvard University.
Though born in Ora, Irele moved to Enugu very early in his life. While he was Edo and was born in an area in which Ora was predominantly spoken, the first language he learned was Igbo; he learned Igbo from the servants who worked for his father and took care of him growing up.
After moving to Lagos in 1940, he began to speak Yoruba. In 1943, after a fight between his parents, Irele returned to Ora with his mother where he picked up Ora and developed a fluency in the language over the course of a year.
However, after returning to Lagos in 1944 to live with his father, he began to predominantly speak Yoruba and maintained it as his ethnic identification.
Irele's first encounters with literature was through folk tales and the oral poets that recounted "raras" in the streets. During the years of his formal education, Irele began to read more English literature.
He helped to expound upon the understanding of Négritude first theorized by Léopold Sédar Senghor in his article "What is Negritude?" featured in Tejumola Olaniyan and Ato Quayson's African Literature: An Anthology of Criticism and Theory.
In his article, Irele defines Négritude as "the literary and ideological movement of French-speaking black intellectuals, which took form as a distinctive and significant aspect of the comprehensive reaction of the black man to the colonial situation…".
In his collection of essays Négritude et condition africaine, Irele explores the question of African thought. He begins by rejecting the notion of ideological difference between anglophone and francophone Africa. He aims to root African progress in the present and not in a romanticized past.
Load more