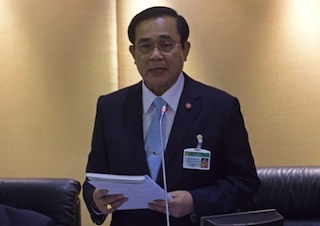 No trade takes place between Thailand and North Korea, Thai Prime Minister Prayuth Chan-ocha said on Tuesday, ahead of a U.S. envoy visit seeking to step up pressure on North Korea over its weapons programs.
The U.S. has been urging Southeast Asian countries to cut more funding streams for North Korea as tension mounts over its development of nuclear weapons and missiles to carry them as far as the U.S.
"Thailand guarantees that we have abided by the UN resolutions.
"There have been reports about North Korean boats in our waters … I prohibited them a long time ago.
"There is no trade, there is no commerce," Chan-ocha told reporters at his Government House office.
Joseph Yun, the U.S. special representative for North Korea policy, is due in Bangkok this week to discuss stepping up pressure on North Korea which has been pressing ahead with its weapons tests in defiance of UN resolutions and sanctions.
During a visit to Bangkok in August, U.S. Secretary of State Rex Tillerson pressed Thailand, the U.S. oldest ally in Asia, for more action on North Korea.
At the time, the U.S. said it believed that North Korean companies were active in Thailand and said it was encouraging the Thailand to close them.
Following Tillerson's visit, Thailand's foreign ministry said trade with North Korea had dropped by as much as 94 percent over the previous year. It did not give any more detail.
North Korea tested its most powerful intercontinental ballistic missile late last month.
The U.N. Security Council is due to hold a ministerial meeting on North Korea's nuclear and missiles programs on Friday.