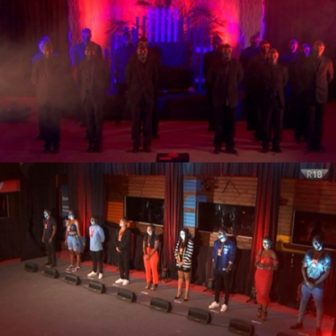 Big Brother aka 'Biggie, owner of the Big Brother Naija house on Sunday, dissolved all the strikes assigned to housemates in a bid to reset the game.
This means that CeeC, Lolu and Tobi who had two strikes each for flouting the house rules, now have clean slates to continue in the game.
News Agency of Nigeria (NAN) reports that Biggie introduced the twist during his `historic' meeting with the housemates before Sunday's live show.
With dramatic lighting and ninjas flanking the 'throne', housemates were asked to line up and queried on their experiences in the house thus far.
After announcing that evictions would not take place as planned, 'Biggie' gave the housemates a choice to exit the game.
They were asked to pick an envelope containing an undisclosed sum of money if they wanted to leave the game at that moment.
Although Rico Swavey and Alex looked like they were going to pick the offer, all the housemates declined.
'Biggie' generously announced that all strikes were forgiven and housemates can restart the game on a clean account causing CeeC, Tobi and Lolu to leap for joy.
According to information on the show's official website, the twists were introduced to create a level playing ground as two evicted housemates were brought back to the house on Sunday.
It read: "All of this was a symbolic moment in order for Biggie to reset the game in order for things to move forward in a new light.
"It is going to be a whole new game with Anto and Khloe coming back. This is going to shift the vibe in the House and definitely spice things up."
It should be recalled that the decision to give disqualified housemates the chance to be voted back to the house alongside honourably evicted housemates, caused uproar on social media.
NAN reports that some viewers advocated for the cancellation of the strikes of CeeC, Tobi and Lolu if any disqualified housemates are given a chance to return to the game.
CeeC and Lolu had earned double strikes due to provocation which led to Lolu getting injured when the two housemates had a disagreement when they were paired together.
Tobi's strikes were earned when he was accused of conspiring with other housemates to put CeeC up for possible eviction.
However, Khloe and Anto are back to the house, having snuck in at 3am on Monday to mixed reactions from the housemates.
Currently, 11 housemates are competing for prizes worth N45 million.

Load more