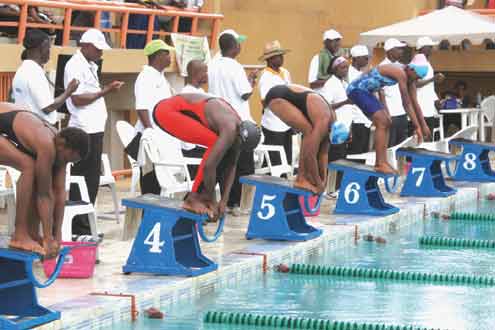 The Ondo State Oil Producing Area Development Commission (OSOPADEC), says plans are underway to ensure that talented swimmers from the riverine areas of the state are nurtured to stardom.
OSOPADEC'S Chairman, Mr Gbenga Edema, made the disclosure while speaking with newsmen on Wednesday after a football novelty match between staff of the commission and National Oil Spill Detection and Response Agency (NOSDRA) at the Ondo Sports Complex.
The "keenly'' contested novelty match ended 1-1.
Edema said plans had been concluded to hone the skills of talented swimmers to stardom through exposure to regular competitions.
He said that his administration would exploit the innate swimming talents of the natives of the riverine areas such as Ilaje, Ese Odo and Igbokoda, and deploy experts that would take the swimmers through the rudiments of the sport.
"We are celebrating in commemoration of the World Environment Day, before the end of the year, we will start a competition in swimming which is synonymous with our area.
"We will support and show that swimming is not only for recreation but it has many benefits and we will create a competition that will be attractive enough for youths of the area,'' he said.
On the novelty match, the chairman said it was in commemoration of World Environment Day which took place on June 6.
Edema added that the commission was collaborating with agencies in charge of the environment to help maintain a beautiful coastline and prevent environmental hazard in its mandate area.
He said the workers were happy to participate in the game as it was a form of exercise for them.
He later challenged parents, who were in the habit of denying their wards the opportunity to participate in a sport of their choice to ensure that such talents were not wasted.

Load more