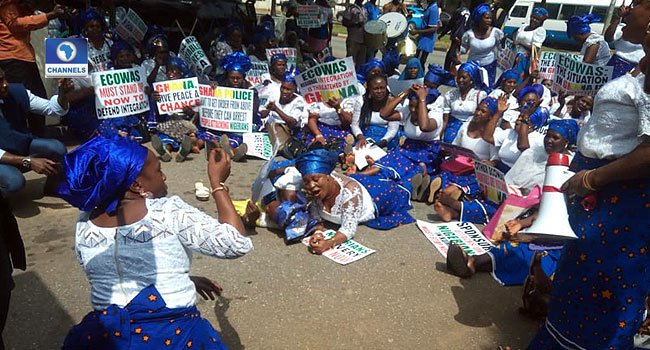 The National Association of Nigerian Traders have stormed the ECOWAS Secretariat in Abuja to protest alleged victimisation of their businesses in Ghana.
The protesters marched through the popular A.Y.A junction, where the headquarters of the ECOWAS commission is located.
Speaking during the protest, the President of the Association, Ken Ukaoha, said the association was protesting the alleged victimisation of Nigerian Businessmen in Ghana.
He said that the development had gotten so bad that a law was recently passed by the Ghanaian parliament, seeking to make the business environment hostile to foreign investors.
He called on the Federal Government to caution its Ghanaian counterpart, by ensuring that there was free movement of goods and services.
According to him, the association was giving the commission a one-week ultimatum to intervene in the matter, adding that "if nothing was done, the association would deploy all its members to occupy the premises of ECOWAS".
The protest has partially paralysed activities at the office, Channels tv reports.