Tu Face recently recorded a celebratory song in London with other artistes. The song, which  is targeted at raising excitement for the golden jubilee celebration of Nigeria's  independence, is titled Celebration, produced by Ozzie and Mo Eazy and recorded by 2Face  along with UK-based artiste, King David.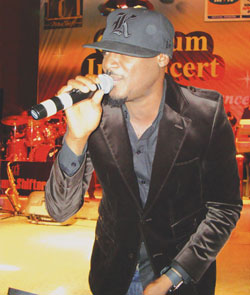 Celebration will be available for sale by digital download on iTunes,  Amazon, www.notjustok.com and MTN.
According to investigation, 100 per cent of the proceeds of sale of the album will go to  Little Big Souls, a charity that focuses on the well-being of children born prematurely.
While several artistes wait to be commissioned by government or its agencies, 2Face has gone  a step ahead of his contemporaries to record the song which aims to delight at the 50th  anniversary celebration of Nigeria's independence.
However, more than celebrating blindly, he has managed to tie in the less privileged in the  society, a move which proves his love for his country and fellowman. This is one of 2Face's  many humanitarian efforts to aid the underprivileged.
Last year, he headlined a concert for the Ghana launch of Little Big Souls in Accra. He has  been known to lend his support repeatedly to such initiatives without reserve and calls on  all Nigerians and friends of Nigeria to support this worthy cause.
Without any doubt, the most accomplished artiste of his generation, 2Face Idibia, put out  his first recording Body & Soul as a member of the trio, Plantashun Boiz, in 1999. Ten years  later, having gone through more ups and downs to panic even a seasoned stockbroker, the  artiste has emerged a newer, stronger brand, winning several awards for his latest effort,  Unstoppable.
Load more