The tension that was prompted by the move to suspend the Speaker of the House of Representatives, Dimeji Bankole, continued this morning as the House which was to resume its plenary, went into a secret session at the behest of the embattled Speaker.
The sitting which was scheduled to start by 10 am did not start until 11.40 am. The delay in the commencement of the meeting was occassioned by the late arrival of the Speaker.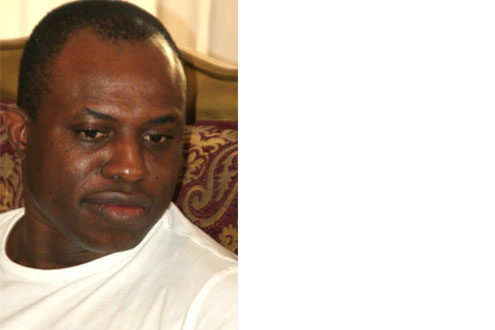 As the members continued to wait for his arrival, tension mounted as Dino Melaye, the prime mover of 'Bankole Must Go' campaign continued to fume on the floor of the House.
Soon after the Speaker came in, he opted that the House should go into a closed session.
His excuse was that the issues contained in the order papers were too numerous and there was need for them to be streamlined.
The challenge before Bankole started yesterday when more allegations were levelled against him by Melaye.
The Speaker, who was at the House for plenary yesterday, was said to have ordered that the door to the chamber be locked against the lawmakers, who were not told the reason for such action.
The leadership of the House was also said to have adjourned sitting without following the House's rules.
It came to the fore when Melaye, who was suspended with some of his colleagues as a result of a fight between them and other members of the House last year, called the attention of his colleagues to the inability of earlier suspended members to access their allowances allegedly deposited with the United Bank for Africa, the official bank of the House.
The 11 legislators are supposed to be paid N120 million each apart from the severance package that all 360 legislators would get at the end of the session.
Melaye, like other aggrieved legislators, wants the Speaker suspended while the House set up a committee to investigate the allegations against him.
According to Melaye, who invoked order 4 of the Rules of the House in his argument, "it is obvious that there is no money to run this House. There is leadership failure if we can adjourn the House against the rules of the House.
"For somebody to order the lock of this chamber without prior notice is against Rule 4(2).
"What happened is a breach of the rule and there is need to investigate the finance of the House and I, therefore, move a motion that the Speaker, Hon. Dimeji Bankole, be suspended pending the outcome of the investigation."
The House had moved the debate to today after Nafada had a hectic time pacifying the legislators who wanted the Speaker to personally state his side of the story yesterday.
—Desmond Utomwen/Abuja & Eromosele Ebhomele
Load more