In slightly surprising news, Shawn Michaels and Triple H would induct Mike Tyson into the WWE Hall Of Fame this Saturday night.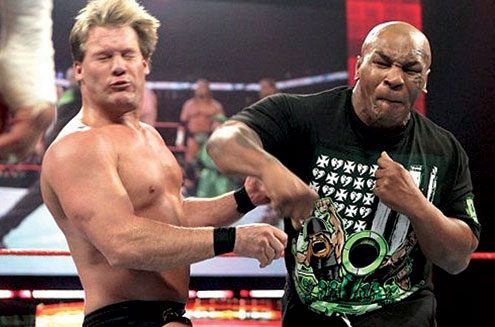 The DX duo had been expected to do the honours for The Four Horsemen of Ric Flair, Barry Windham, Arn Anderson, Tully Blanchard and J.J. Dillon, as both men grew up idolising Flair and his henchmen.
Now that role will go to "The American Dream" Dusty Rhodes instead, who the stable feuded with, both onscreen and off, in the mid to late 1980s.
The best person to induct Tyson would have been "Stone Cold" Steve Austin, whose confrontation with the then baddest man on the planet on the 19 January, 1998 edition of Raw is still one of the greatest moments in the show's long history.
But, it seems that D-Generation X, who Tyson briefly aligned with in the run up to WrestleMania XIV, were given the nod as Austin is not involved with Mania this year.
Tyson's induction is expected to be pushed as a big deal by WWE in order to get mainstream press for their Hall Of Fame and draw ratings for the one hour television special preceding next Monday's Raw that will air clips of the ceremony.
Speaking of The Nature Boy, nothing is guaranteed, as Vince McMahon could always wake up on the wrong side of the bed between now and WrestleMania weekend, but a deal in principle has been close to agreed upon with Dixie Carter of TNA for Flair to have a full onstage presence at the proceedings.
It will be a surprise if things went sour at the last minute though, as WWE would leave fans extremely disappointed if Flair didn't cut a speech with his Horsemen comrades and TNA would look like the bad guys in the situation if there was a cancellation at the last minute.
We'll see what happens in three days time, be sure to check out Cageside Seats for full WrestleMania weekend coverage.

Load more