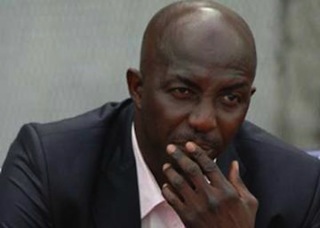 Samson Siasia, the Dream Team IV coach, admitted that some five major changes to his original team line-up, failed to stop the Colombians from running away with a 0-2 defeat to his team.
He spoke at a news conference after the Group B match, played at the Corinthians Arena Stadium, Sao Paulo.
Siasia said that the team failed to contain the rampaging South American team.
"The two players that tormented the Dream Team, were Teofile, spotting the 10 jersey and Miguel Borja, number 9," the coach added.
"Mistakes have been made. We shall correct all these before the start of the quarter-finals matches, where mistakes could prove costly.
"At that level, any team that waivers will be on their way back home. Our target is still the Olympic Gold. We can do it.
"My team realises that, and we have to work had to attain our collective aspiration," he said.
Captain of the team, John Mikel Obi, pleaded with fans at home and abroad to bear with the team, that the defeat by Colombia was not the end of the road.
"We are professionals. We made our mistakes. We shall take time to effect corrections and ensure that we keep our hopes alive.
"We are here for business and we shall ensure we successfully complete our assignment," he reassured.
On problems that faced the team, he said: "we have put everything behind us. We are working as a team.
"What is important is that there is no human that does not face challenges and we have had ours, we are professionals and we are forging ahead."
Obi was not specific on the problems, but certainly, it had to do with events leading to the team's tour of Atlanta, where they were stranded and arrived Brazil barely three hours to the first match.
They overcome, to beat Japan 5-4, spanked Sweden 1-0 to amass six points to ensure a place in the quarter-final, losing 0-2 to Colombia.
The loss did not do a significant damage as the national team still topped the group.

Load more