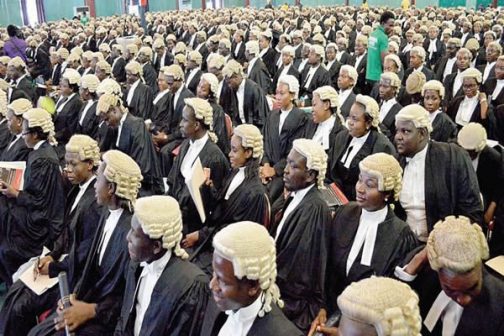 The Nigeria Law School on Tuesday said that 4790 candidates were successful at its August/ September 2018 Bar Final Examinations and 161 of them made First Class.
The Director-General of the School, Prof. Isa Ciroma (SAN) disclosed this while presenting the candidates to the Body of Benchers at the 2018 Call to the Bar ceremony in Abuja.
"At this Call to the Bar ceremony, a total of 4,779 graduates were successful at the August/ September 2018 Bar Final Examinations; as well as 11 candidates from previous Bar Final Examinations.
"A total number of 5,846 students participated in the examination.
"While 161 candidates were graded in First Class, 694 made Second Class Upper, 1, 275 made Second Class Lower and 2, 649 got a Pass mark," he said.
Ciroma noted that the 161 candidates, who made the First Class, cut across 15 federal universities, 14 state universities and five private universities.
He said that the general performance, which he described as unprecedented, justified the huge investment and sacrifice made by all stakeholders.
He said that the school would put more efforts to sustain and surpass the attained record, adding that as long as its students were willing to excel, the school would avail them the opportunity to achieve their goals.
He explained that the graduates have successfully completed their vocational training at the school as prescribed by the Legal Education Act and have met the conditions set by the Council of Legal Education.
Also speaking at the occasion, the Chairman, Body of Benchers, Alhaji Bashir Dalhatu, described the 2018 ceremony as unique.
He said it was the first in history of the country the school was graduating 161 students with First Class degree.
"The bottom line is, we should have a system of law teaching and practice which is up to standard and of which we are all proud of and can be defended at any given point", Dalhatu said.
He charged the graduates to imbibe professionalism and stick to the truth, guided by their conscience and the law.
He also urged the senior colleagues in the profession to mentor the young ones who desire to learn from them.

Load more